Mercedes GLE By Larte A Winner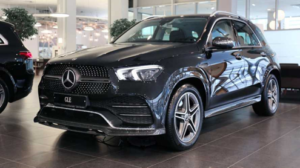 The most recent Mercedes-Benz GLE generation already is a fantastic-looking premium sports utility vehicle, even in non-AMG form. Tuners likely will present a ton of design packages for the high-riding, Germany luxury cruiser very soon, and the first one to appear is a project from Larte Design. Contrary to a few of the company's prior works, the Mercedes-Benz GLE here is quite elegant and stylish.
Officially named the Winner, Larte's Mercedes GLE is available with a pack that consists of 14 exterior components. Beginning with the front, there is a new splitter, whereas at the back there's modified exhaust tips and a sporty diffuser. New side sills and an extra spoiler, together with redesigned front bumper trim and boot, round off its visual enhancements.
All of the parts are provided with either a basalt or a carbon finish, and according to Larte, it presently has all of them in stock. That means the delivery will not take more than ten days, while the full installation of the complete package takes around eight hours. The tuning company offers a 2-year warranty on every component.
The project from Larte does not include mechanical improvements. If you want something more powerful than their regular Mercedes GLE, you ought to visit the Mercedes dealer in your area and ask for their Mercedes GLE 63 range-topper.
The Mercedes GLE, in 63 S guise, hits 60 mph from a standstill in only 3.7 seconds. Its top speed is 174 miles per hour.
Why Choose Carolina Coast Collision to Care For your Mercedes-Benz?
Carolina Coast Collision is proud to be the sole Mercedes-Benz certified collision facility on the east coast of NC.
Our center is fully equipped with an array of Mercedes-Benz approved and tested repair methods, equipment, as well as tools.
Our techs are highly trained and skilled, with years of expertise to make sure that repairs to your car's bodywork and paintwork are done with the utmost care, commitment, as well as precision.
For more information on our Mercedes-Benz Certified Collision Center please feel free to contact Carolina Coast Collision today at 910-791-7525.
Image courtesy of Larte's Mercedes GLE