Collision Repair Services in Wilmington NC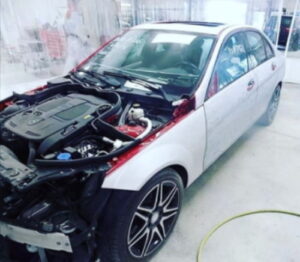 You've been involved in a collision and are wondering, "Where is the collision repair near me?"  The sophisticated build of today's automobile requires continuous education of our Master Techs to meet the requirements of your cars.  Our auto collision repair methods are a precise duplication of original manufacturer specs down to the car's fit & finish which is the result of an expert repair both inside and out.
Carolina Coast Collision's collision center will restore your vehicle's performance (how it operates, rides, handles, and steers), its mechanics (alignment, balance, drive train, and engine), as well as the fit and finish (seams in between the bumpers, grille, fenders, and hood) to make sure that it's true to manufacturer specs.
Carolina Coast Collision is the best collision repair center in Wilmington, and our standard practice includes only using OE (original equipment) parts. If a vehicle is an older model, if original equipment parts are not available, or if you and your insurance provider want to be economical, we may offer like kind quality parts on any model vehicle but Mercedes.
You can be assured that your car will be restored back to its original pre-collision condition.
At Carolina Coast Collision we understand what it means to bring your vehicle back to showroom condition. We'll take some time to understand your concerns, as well as offer customized solutions all throughout the whole process of repairs. Our highly trained techs are trained to repair all models and makes, yet our expertise and passion are in working with luxury and exotic cars. In addition, we have outstanding relationships with most of the major insurance providers and can help in your insurance claim process from beginning to end. Whether you have experienced a minor fender bender or major collision it's possible to rest assured that your automobile will be dealt with by the best this industry offers.
Around-the-clock Towing Service
We know accidents happen during any given moment. That is why our vehicle accident repair shop has a strong relationship with a local towing company, Kirby's, which offers around-the-clock towing services; therefore, no matter when you are involved in an accident, we are there to help.
Arrangements for a Rental Car
Do you need a replacement car while yours is in the shop? We make sure you are aware of booking procedures for the rental car company whether you are going through insurance or handling it yourself.
Help with your Insurance Claim
We have great relationships with all the major insurance providers and will help in the claim process from beginning to end. For Farm Bureau and Pure Insurance when filing your claim you can request they send us an open shop assignment which will allow us to handle the entire claim digitally for you. Unfortunately we are not longer accepting claims with Geico, if you do have a claim with them we are happy to complete the repairs in the form of self-pay and you can address additional payment with the company personally.
Collisions happen! However, Carolina Coast Collision's professionally trained technicians will repair your dings, dents, and accidental damage to return you back on the streets and onto the next adventure.
To schedule an appointment with our collision repair Wilmington NC center, contact Carolina Coast Collision today at 910-791-7525.