Foreign Car Repair | Mercedes Certified Repair Facility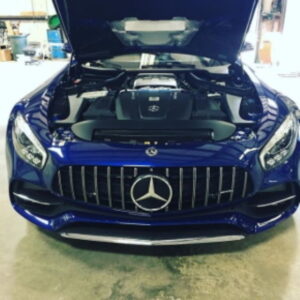 Carolina Coast Collision specializes in foreign car repair. Our mechanics are experienced at repairing many brands, and we are Certified  in repairing all Mercedes, but experienced in VW, LandRover, and BMW vehicles as well. Our relationships with nationwide distributors ensure that we give our customers an unparalleled variety of replacement parts for all models and makes of foreign and European cars in Wilmington, North Carolina.
Not only does our foreign car repair shop service European and foreign cars, we also service domestic car makes, too. Our talented pros are trained in doing many repairs on all vehicle makes and models.
We provide competitively priced repairs and service on foreign automobiles. At Carolina Coast Collision, we're authorized for extended warranty repairs in our cutting-edge facility. We hire the best techs in the industry who are able to perform a broad array of services.
Why Select Carolina Coast Collision for Foreign and European Vehicle Repair?
We're the original dealership alternative.
Our company provides inspections for your car with any service which assists in limiting the number of repairs required on your car.
We utilize the most recent diagnostic equipment to make sure that your car is back on the streets in no time.
Just some of the cars we provide competitively priced repairs on are Mercedes, GMC, Ford, LandRover, BMW, VW, Fiat, Mini Cooper, Dodge, Hummer, Hyundai, Kia, Subaru, Chevrolet, Volvo repair and more. Those services include:
Structural Repairs
Frame Repairs
Steering and Suspension repairs
Vehicle Diagnostics after repair assembly
Sublet Alignments with the Dealership
Sublet Glass Repair and/or Replacement through Registers Auto Glass
Do not waste your time even considering dealership costs on foreign and European vehicle replacement parts. Our partnerships with nationwide distributors permit us to find hard-to-locate foreign and European parts at reasonable prices. We perform foreign car repair the proper way. Our Mercedes repair shop serves you, your needs, as well as your budget.
For most repair shops in Wilmington, foreign car repairs are akin to attempting to make a square peg fit into a round hole. Carolina Coast Collison, with foreign car diagnostic equipment, will discover what may be causing issues with your car. From that point, we have the proper tools to care for your repairs and make sure that your vehicle is properly running.
To obtain high-quality repairs or maintenance for your foreign vehicle in Wilmington, go with Carolina Coast Collision. We'll make sure that your exotic vehicle cared for, so it'll have the ability to transport you on the streets for a long time to come.
To arrange an appointment for foreign car repair in Wilmington NC contact Carolina Coast Collision at 910-791-7525.