Mercedes-Benz Teases New Concept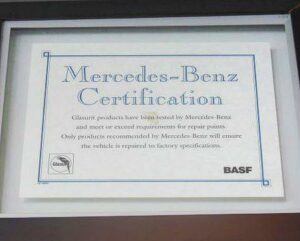 Mercedes-Benz recently confirmed the debut of its new concept for January 2020's Consumer Electronics Show. They're teasing that the car takes inspiration from 'one of the entertainment sector's most innovative brands.'
Mercedes does not provide any more clarification regarding what brand the vehicle may be using for influence. But they indicate that it 'symbolizes the company's aspirations to accomplish sustainable mobility today, tomorrow and the future.'
The additional cars at Mercedes' CES stand may offer some hints as to what to expect from its new concept. The brand is showing the Vision EQS and EQC 400 4MATIC electric crossover concept. Since the additional two models are electric vehicles, it is likely that the one that is debuting there might use electric propulsion, as well. This powertrain also would fit with the concept of reflecting the carmaker's objectives for sustainability.
The brand has an ambitious strategy to add substantially more EV's to its line-up within just a couple of years. But the plan hit a small snag recently when they announced it was postponing the release of the EQC electric crossover to the U.S. until 2021. Mercedes positioned their decision as a method of supporting the increasing demand for the model within Europe.
Mercedes' Vision EQS concept is an example of how a forthcoming, electric range-topping sedan could look. Allegedly, the production version has an unveiling in the year 2020 and will be on sale in a few markets in the year 2021. Mechanically, the version rides on Mercedes' Modular Electric Architecture, and pair of electric motors would offer AWD (all-wheel drive).
Carolina Coast Collision is a certified Mercedes-Benz Collision Center
Carolina Coast Collision is one of only five shops in North Carolina that's Mercedes-Benz certified.
If you own a Mercedes-Benz in the Wilmington area and are involved in a collision, you'll be asked if you want your car to be taken to a Mercedes-Benz shop for the repairs. In this case, Mercedes-Benz tows your car for free to our center and allows us to start work.
For more information on our Mercedes-Benz Certified Collision Center please feel free to contact Carolina Coast Collision today at 910-791-7525.