Mercedes S-Class Shows Off Up-to-Date Style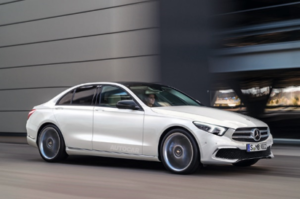 While sports utility vehicles and crossovers are still king with consumers today, there is still room for luxury sedans to succeed. The Mercedes S-Class still is a pinnacle of modern-day luxury, which will receive a significant update when the next-gen model arrives for 2021. An endless amount of spy images that date back to 2017, have displayed the sedan in a variety of phases of development. Even the most recent photos still depict much of the vehicle hidden under camouflage. Mercedes-Benz will not reveal the new Mercedes S-Class until 2021, yet until that time, we might see what the sedan would look like when it comes on the scene because of a new rendering from Kolesa.ru.
The next-gen Mercedes S-Class is not a full design evolution. The Mercedes S-Class rendering imagines most of what is hidden underneath the camouflage, and shows off a revised grille shape, new headlight designs, and a new lower front fascia. Down its side, the rendering has pop-out, unique door handles. The brand tried – then failed – at keeping them hidden. In addition, the profile depicts a sharp crease running from the front fender to its rear wheels, which is a styling component that is found on the existing S-Class.
At its rear, the rendering highlights the Mercedes S-Class' new taillights which are similar in design to the taillights that are found on other recently refreshed or new Mercedes-Benz models. Its chrome strip that spans between the taillights is a great touch. The rendering depicts a redesigned Mercedes S-Class rear end that has tailpipes and a new rear fascia.
The 2021 model sedan will not debut until next year, and even at that point, it still could be many months away. Even though when it does come on the scene, it'll carry over at least one invited part – its V-12 engine. Additional powertrains involve more compact V6 and V8 engines, hybrids, and, potentially, a completely electric version. However, that is a couple of years down the road, the brand must reveal its new petrol-powered Mercedes S-Class first.
Carolina Coast Collision is a Mercedes Collision Center. If you own a Mercedes-Benz and need help with repairs, contact us. For more details on our Mercedes Certified Collision Center feel free to get in touch with Carolina Coast Collision right away at 910-791-7525.
Image courtesy: Kolesa.ru